Navigation Menu
Welcome to our blog!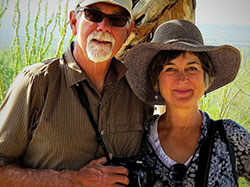 If you enjoy hiking, biking, kayaking, birding, art, music, quirky towns, good food, and good friends—you'll enjoy traveling with us. Join us as we explore the backroads of North America—we love company and comments!
~Laurel & Eric

Instructions for living a life:
Pay attention.
Be astonished.
Tell about it.
~Mary Oliver
Archives